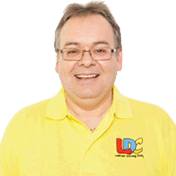 About me
Hi I'm Richard, I am a fully qualified Government Approved Driving Instructor and I am passionate about road safety.
I trained as a driving instructor with LDC and have stayed with the company, as their coaching and support for both learners and instructors is excellent. I find that using their system means more actual driving time on lessons, saving unnecessary explanations at the side of the road. So not only do my pupils save money with this approach, they have the assurance of the highest standards of tuition and customer care as part of the LDC network.
My aim is to provide a flexible and enjoyable learning environment where you will be actively involved in the process of learning or enhancing your driving skills. I recommend having regular 2 hour lessons or training more intensively. By learning intensively students find they retain more and learn at a quicker rate. Those who learn at a rate of only one hour a week generally find learning to drive will take a lot longer and ultimately will work out more expensive. Because we all have different ways of learning, my lessons will be tailored to suit your preferred style together with appropriate levels of support along the way. This creates a more relaxed and stress-free atmosphere where most people learn better and more quickly – and lessons are fun! If you make mistakes when driving (and who doesn't?), I will not shout at you. So often I am told about how a well-meaning parent/partner/instructor destroyed someone's confidence by doing this when things weren't going to plan! If this sounds familiar, and you wish to change the situation for one with a patient, calm and supportive professional instructor, you can contact me now.
I was born in Manchester, grew up in Sheffield and moved to Newbury in 1983. I have 2 boys Jeremy and Edward. Because I have lived around Newbury for nearly 40 years, I know the area extremely well, which is a huge benefit when choosing appropriate locations for people to learn to drive. When I am not in my car my passion is Golf. You may know me from American Golf, Thatcham or could of seen me on any of the local courses. Why not contact me now for a FREE home visit.